By Ma'an – 28 Aug 2009
www.maannews.net/eng/ViewDetails.aspx?ID=221937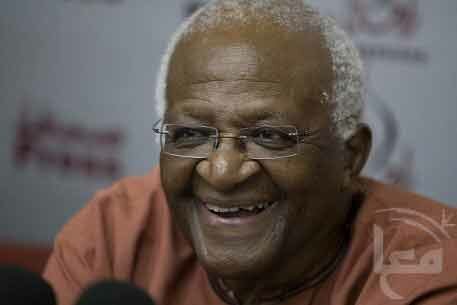 Ramallah – Ma'an – Israel and other parties have no choice but to talk to Hamas, South African Archbishop Emeritus Desmond Tutu said in an exclusive interview on Wednesday.
"You don't make peace with friends," he told Ma'an in Ramallah. "You negotiate with those who are regarded as pariahs."
Tutu was in the West Bank on Wednesday for the final leg of a delegation visit by the Elders, a group of world leaders brought together in 2007 by his anti-apartheid comrade Nelson Mandela, the former South African president and activist.
The archbishop drew parallels between Israel's Hamas boycott and white South Africa's refusal to engage Mandela's anti-apartheid African National Congress (ANC) which, like Hamas today, was once labeled a terrorist organization by much of the international community.
"It's the same thing that happened in South Africa for a very long time," he said. "The apartheid government said they wouldn't negotiate with Nelson Mandela, and so on – and they had to."
The International Quartet of the United States, United Nations, European Union, and Russia has set preconditions for the Islamic movement, insisting that it renounce violence, recognize Israel and agree to previously signed agreements before being allowed to enter into negotiations.
But Tutu said as former representatives of many of these nations, "We do not have those constraints."
On whether or not members of the delegation, including former presidents Jimmy Carter of the US and Mary Robinson of Ireland, were willing to personally talk to Hamas officials now that they have left government, Tutu said, "We want to be able to speak with everybody."
"It is precisely, as it were, part of our CV, our job description," he added. "We don't represent a government, we don't represent any particular segment of society except the people who want to see peace in the world."
Tutu gained notoriety for chairing the post-apartheid Truth and Reconciliation Commission, which made no distinction between illegitimate acts of violence committed by either side in South Africa, and ultimately held Nelson Mandela responsible for much of the bloodshed.
And just as he once criticized the ANC's militant wing for violent tactics against apartheid rule, Tutu said the armed wing of Hamas must immediately stop firing its homemade projectiles into Israeli territory.
He noted, "When I met with [Hamas leader in Gaza Ismail] Haniyeh I said, quite categorically, that the firing of Qassam rockets into Sderot were as much a gross violation as Israel's incursions."
The archbishop met Haniyeh in Gaza in 2008 with a UN fact-finding mission looking into the deaths of 19 Palestinian civilians after the 2006 shelling of a row of houses in Beit Hanoun. Israel apologized for what it said was a technical malfunction, but otherwise refused to cooperate with the UN investigation.
"The right to life has been violated not just through the killings, but also through the lack of an adequate investigation of the killings," Tutu said after completing the report, which he filed despite having been twice prevented from entering Gaza along with his UN team.
Unable to visit the besieged coastal strip during this latest trip to the Holy Land due to security concerns, Tutu said the Elders had "raised this issue, the issue of the blockade," which Israel imposed on Gaza shortly after the Hamas takeover in 2007. "We did intend to go."
"This morning we were speaking with [Israeli] President [Shimon] Peres and expressed our concerns. That was one of the issues we wanted to be able to highlight as part of the program of our visit," he said. "The humanitarian situation is incorrigible, really. So we did raise it, and hope that the fact that we have raised it will be a fact that will be considered."
"The leader of our delegation [former Brazilian President Fernando Cardoso] is hoping to be in contact with the prime minister [Haniyeh] there just to find out what the state of affairs is, I mean, maybe really reconfirming what we all know," he said.
Indeed any perception of quiet in Gaza ended hours after Tutu sat down with Ma'an. A Hamas-affiliated militant died overnight Thursday, just before three more Palestinians were killed when a tunnel used for smuggling blockaded goods collapsed. On Thursday, a fisherman was beheaded by shelling that medics said came from Israeli naval forces, which Israel adamantly denied, while more clashes were reported elsewhere.
But in the West Bank and inside Israel, the Elders lauded what they called a youthful optimism on both sides. Tutu said spending time with young Palestinians and Israelis, at Mandela's urging, left everyone impressed. "More than just being impressed. It moved you."
"We are just, in a way, awestruck by the quality of these young people," he said. "They're committed to peace, and they are smart! They really are very able and some of their insights are quite startling."
Even though the war over apartheid in South Africa was eventually resolved in a single democratic state, Tutu concluded that most people on both sides shared the conventional wisdom of a two-state solution, with notable exceptions, as the only path forward.
"What is true is that as a solution has receded, people have become less hopeful that a settlement would occur, but they still seem to share – on both sides – they do share this belief in the two-state solution," he said.