Link to Us
You can link to the Israeli Occupation Archive, with or without the Israeli Occupation Archive logo, by copying and pasting the text below to your website page. The logo image comes in four square-sizes: 200×200; 175×175; 150×150; and 125×125 pixels, and three rectangular-sizes:

200×275; 175×240; and 150×192 pixels,

as shown below (hover over the image to confirm its size). Other dimensions can be provided. Thank you!
1. Link with Logo: Right-click on logo image (below) and do a Save Image As, with the following file name: ioa-logo.png, to your image directory. Copy and paste the text below onto the destination page location. Change ALL-CAP text to indicate the name of the domain and directory where you wish to store the logo image (if necessary, change domain type from .ORG to the appropriate type), and the correct width and height dimensions:
<a href="http://www.israeli-occupation.org" target="_blank"><img src="http://www.YOUR DOMAIN.ORG/YOUR IMAGE DIRECTORY/ioa-logo.png" width="WIDTH" height="HEIGHT" border="0" title="Israeli Occupation Archive – www.Israeli-Occupation.org" alt="Visit the Israeli Occupation Archive – www.Israeli-Occupation.org" longdesc="http://www.israeli-occupation.org"></a>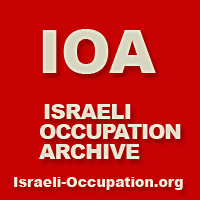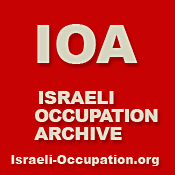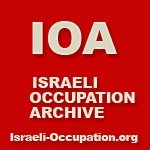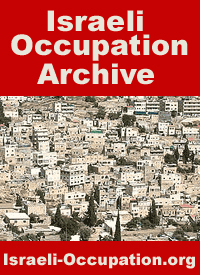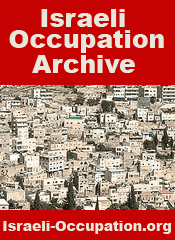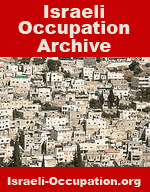 2. Link without Logo: Copy and paste the text below onto the destination page location:
<a href="http://www.israeli-occupation.org" target="_blank" title="Israeli Occupation Archive – www.Israeli-Occupation.org">Israeli-Occupation.org</a>