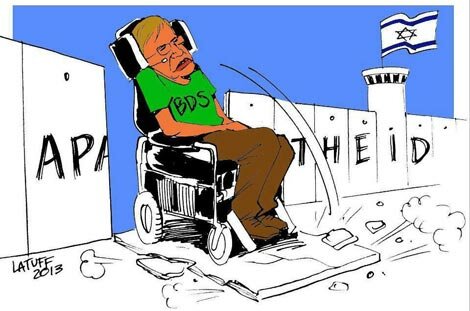 [IOA Editor: The following letter was sent to Stephen Hawking by 20 scientists urging him to reconsider his participation, as a keynote speaker, at Israel's Presidential Conference, a major public event attracting world figures such as Bill Clinton and Tony Blair. Professor Hawking has since declined the invitation to attend.
This letter was distributed by Jonathan Rosenhead of BRICUP]
27 April 2013
Dear Professor Hawking,
As fellow scholars and academics, we are surprised and deeply disappointed to learn that you have accepted an invitation to participate in Israel's Presidential Conference in June.
It is entirely natural to wish to accept an invitation to a high profile event of this kind. But can we ask you to reflect further before exercising that reflex.
Israel has many special features which should give pause, and which indeed are already persuading many academics and cultural figures not to participate with official Israeli institutions. Here are a few of them:
Discrimination against Palestinians: Israel systematically discriminates against the Palestinians who make up 20 per cent of its population in ways that would be illegal in Britain.
Systematic violations of international human rights and humanitarian law: The UN Fact-Finding Mission on the 2008-09 Gaza Conflict concluded that the preceding blockade of Gaza amounted to "collective punishment" of the people of Gaza. Furthermore it found that Israel's Cast Lead offensive involved numerous breaches of the Fourth Geneva Convention, and the likelihood that "war crimes and crimes against humanity" had been committed.
Illegal settlement: Israel has systematically transferred Jewish settlers into the territories occupied in 1967. These transfers breach the Fourth Geneva Convention (1949).
Access to higher education: Israel places multiple roadblocks, physical, financial and legal, in the way of higher education, both for its own Palestinian citizens and those under occupation.
Additional information about these claims can be found on the attached sheet.
Israel has a name for the promotion of its cultural and scientific standing – 'Brand Israel'. This is a deliberate policy of camouflaging its oppressive acts behind a cultured veneer. Since 2005, organisations that comprise practically the whole of Palestinian civil society have called on foreign academics to engage with individual Israeli academics if they wish, but to have nothing to do with state-funded Israeli institutions. By heeding their call we, and you, can provide moral backing to our Palestinian colleagues whose teaching and research have been severely compromised by multiple Israeli policies. We can also indicate to Israeli opinion that participation in the global community comes with obligations.
Archbishop Desmond Tutu has called the Palestinians' plight under Israeli control, "worse than Apartheid". Iain Banks this month wrote of the Palestinian people that "collectively we have turned our backs on their suffering for far too long". We very much hope that you will refuse this invitation.
(signed)
David Elworthy
Mohamed El Gomati
Colin Green
Nigel Harris
Nick Humphrey
Gabriel Khoury
Ailsa Land
Frank Land
Malcolm Levitt FRS
Moshe Machover
Mary Midgely
David Mond
Malcolm Povey
Martin Richards
Steven Rose
Jonathan Rosenhead
Tim Shallice FRS
David Pegg
David Wield
and
Noam Chomsky
Professors in
Biology, Chemistry, Civil Engineering, Electronics, Food Physics, Information Systems, Linguistics, Mathematics, Medicine, Operational Research, Philosophy, Psychology, Technology, Tectonics
at
Cambridge University, Imperial College, Kings College London, University of Leeds, London School of Economics, Newcastle University, Open University, University of Southampton, University College London, Warwick University, University of York and Massachusetts Institute of Technology